The website analytics dashboard provides essential traffic insights for your website. Presented on one simple page you get a simple overview of your website visitors and critical metrics.
---
Overview
Insights at a glance
The most essential metrics are displayed right at the top of the dashboard with a chart of visitors over time to give you an initial view of your traffic. You can change time interval to overlook any date range of interest using the date picker in the top right corner. Compare your metrics in the current period with prior periods using the compare value presented next to each insight.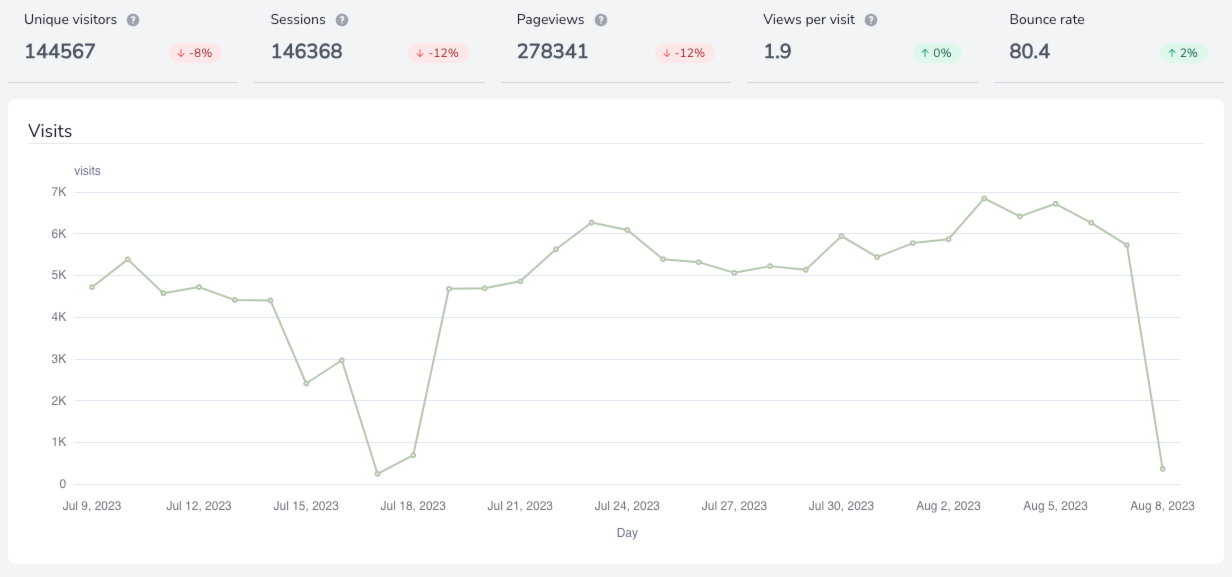 Unique visitors
The number of unique users that visits your website.
Sessions
The number of sessions your unique visitors generates. Each session lasts 30 minutes.
Pageviews
The total number of page loads in the time period.
Views per visits
The average number of pageviews each session have
Bounce rate
The number of visitor that only views one page.
Visitors per day
The number of visitor per day displayed in a line chart.
Sources and Pages
Find out where all your visitors come from, and what pages they visit. We do our outmost to figure out the source of your traffic. And in many cases we do a great job at it, but sometimes we are unable to determine the source. When that happens the visitor source is set to your domain name. The same is true for direct traffic to your site, e.g. when someone types in your url directly in the browser. By default, we display the top ten sources and pages in the dashboard. But you can click the See all button to get a full list of results for the period.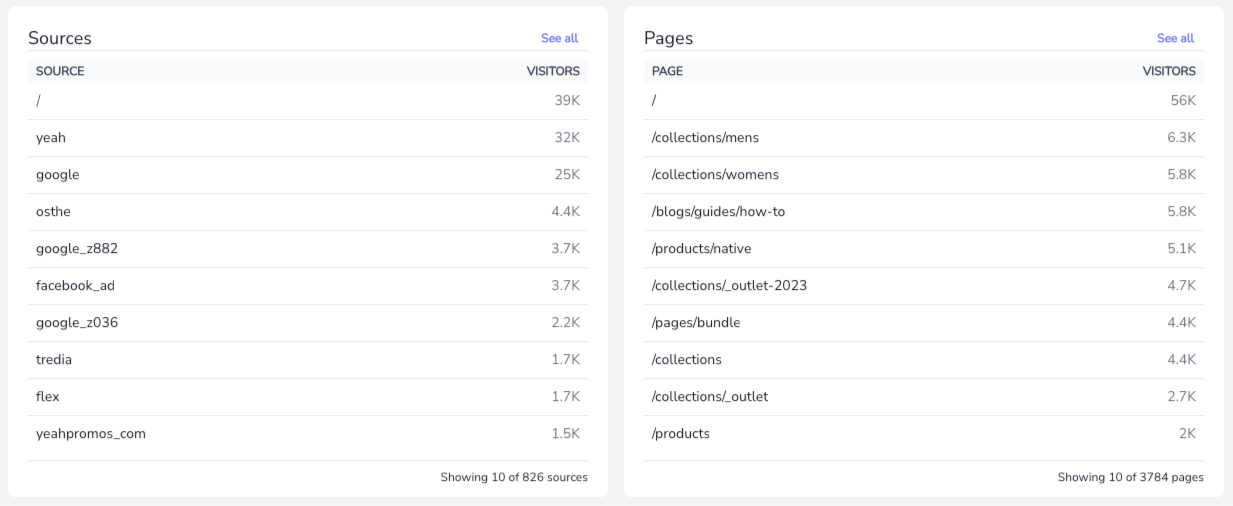 Locations and Browsers
Locations features a list of countries where your visitors come from. Get a quick view of which browsers are most important for your website, and how many of your visitors are visting from mobile devices using the browser section.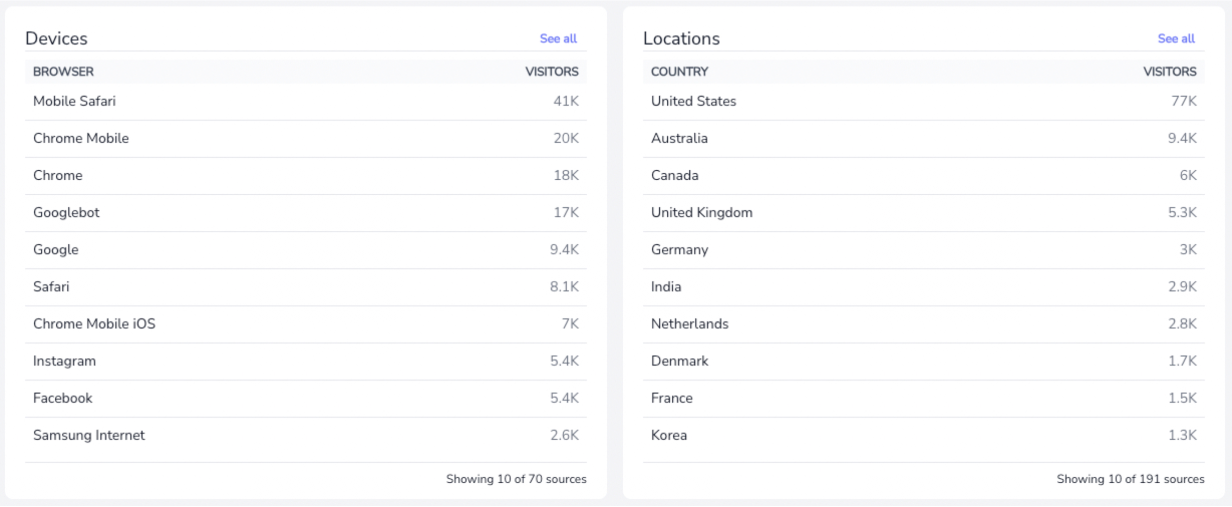 Map
The world map shows where your visitors come from.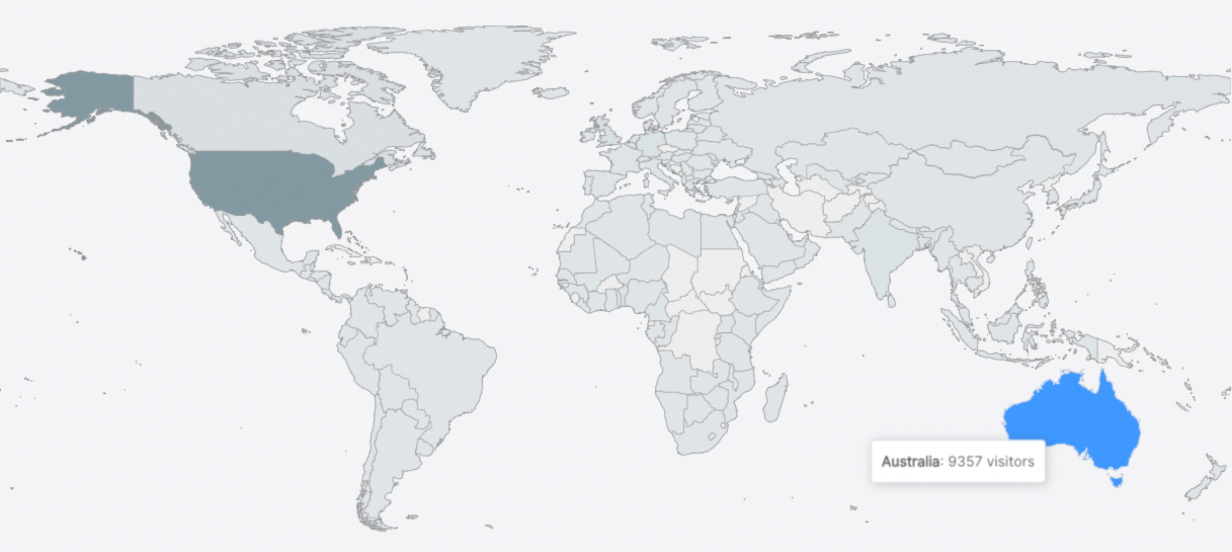 Not all visitors leaves a trail.
The map only shows visitors where we could detect the location. Hence, not all visits are counted in the map.
Advanced
Bot traffic
Engage automatically removes known bots from the report to increase the data quality for you. Bots may however still be present in the data as we may fail to detect new or unknown ones.
Privacy considerations
Cookies and PII
This feature use the following cookies and personally identifiable information (PII):
| Type | Name | Description |
| --- | --- | --- |
| Cookie | -zl_udi | A random Client (browser) identifier, set to expire after 730 days. |
| Cookie | -zl_usi | A random Client (browser) identifier, set to expire after 30 minutes. |
| PII | Client IP | Used as back up in analytics when the UUID is not available. |
| PII | Country | Used to present location based statistics. |
Regulatory compliance
We work hard to stay transparent around data privacy and protection. To help our customers with regulatory compliance and transparency towards their users, we have documented all data usage within our platform from a data privacy perspective, and provided recommendations on how to use our platform in a compliant way. Start here .